Tools
Obi - belt, tanto - wooden training knife, zori - sandals. 2016.
Dojo
In an Aikido dojo, the observation of basic forms of etiquette is integral to the creation of a respectful and attentive atmosphere which is conductive to learning. Although Japanese forms are unfamiliar to most Westerners, over a period of time they not only become comfortable expressions of courtesy, but also, as we come to understand the levels of meaning behind the forms, they can enrich and further practice. Plymouth, 2016.
Rei
Most basic form of respect and gratitude is a rei (bow) from the knees or stood upright. A mixed class prepares to kneel, then rei to O-Sensei. Plymouth, 2016.
Affiliation
Shin Gi Tai Aikido badge. 2016.
Keen
A young aikidoka waits for people to arrive. Burry Port, Wales. 2016.
Jo
Jo work being demonstrated by 1st Kyū's. Other students, sensei's and the grading panel look on. Burry Port, Wales. 2016.
The Grade
A first kyu (brown belt) receiving a knife attack during a dan grading (black belt). Burry Port, Wales. 2016.
Demo
A dan grade watches closely while Soke Jones demonstrates a technique. Burry Port, Wales. 2016.
Watching
A sensei enjoying a demonstration at a Summer School. Burry Port, Wales. 2016.
Flash
A fight in a flash, training at a summer school. Burry Port, Wales. 2016.
Attack & Defend
Aikidoka repeating a technique. Burry Port, Wales. 2016.
Transitions
Two aikidoka practising a transition from Ikkyo to Nikyo. 1st technique to second technique.
二教 nikyō note mawashi - a pronating wristlock that torques the arm and applies painful nerve pressure.
Uke
Uke - the person who receives a technique. Plymouth, 2016.
Lead
Leading exercise. Plymouth School of Aikido, 2016.
Sensei
Sensei Hall applying a pin technique to an Aikidoka. Sensei meaning teacher or instructor. Plymouth, 2016.
Control
A Sensei applying a control technique to a fellow Dan grade. Plymouth, 2016.
Tap, Tap
Aikidoka receiving a pin. When the pain reaches an uncomfortable level the Uke taps out. Plymouth, 2016.
Tori
In practise, after receiving a technique the Uke's now applies the technique to the Tori. The Uke becomes the Tori. Plymouth, 2016.
Tori 取り - the executor of a technique in partnered practice. The term "tori" comes from the verb toru (取る), meaning "to take", "to pick up", or "to choose".
Sukomen
Aikidoka practising the hand movements of Sukomen, an under the chin throw. Plymouth, 2016.
Heaven & Earth
天地投げ tenchinage - beginning with ryōte-dori; moving forward, tori' sweeps one hand low (earth) and the other high (heaven), which unbalances uke so that he or she falls over. Plymouth, 2016.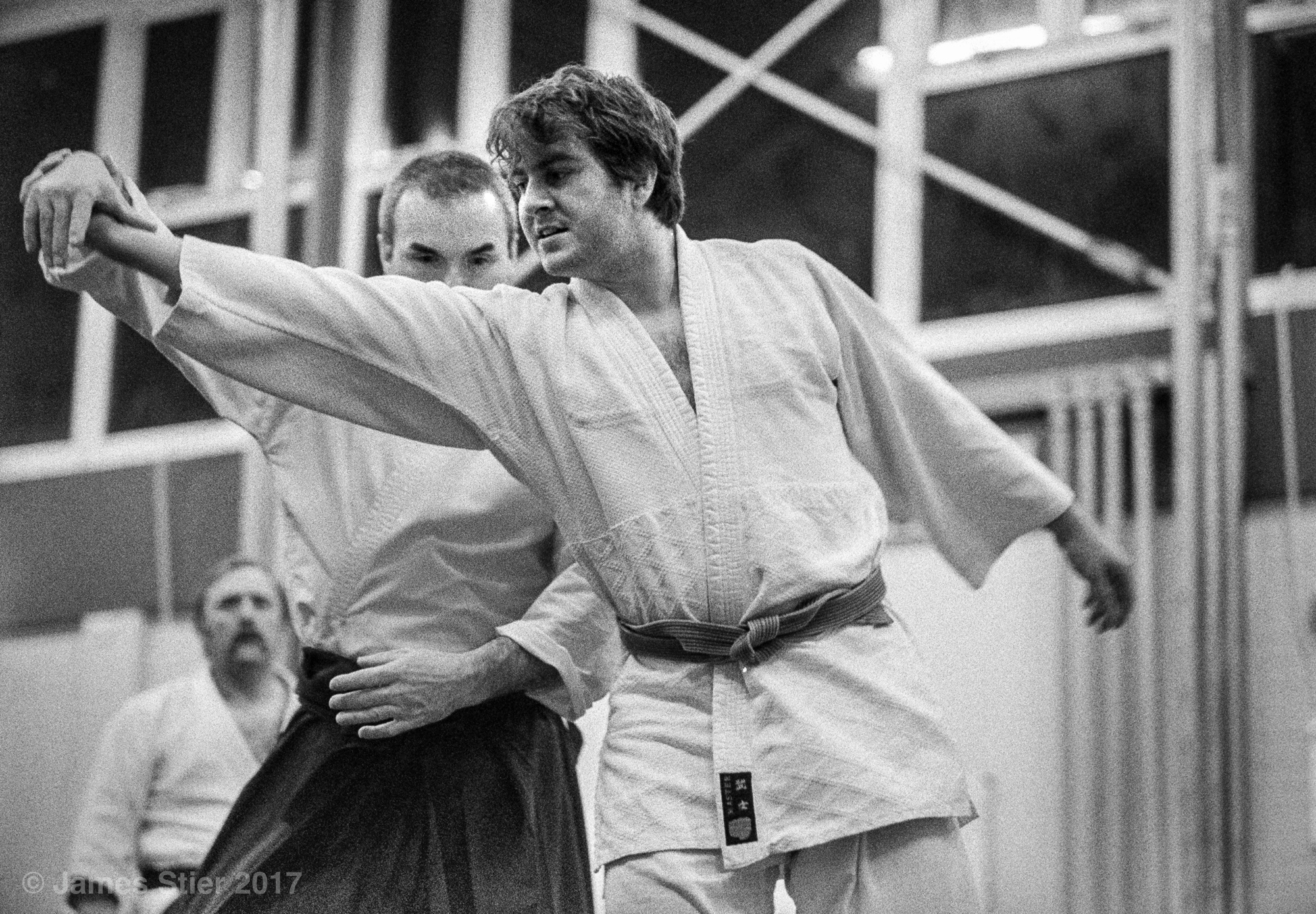 Centre
"With proper blending, leading your partner's ki, and touching his center, the technique is "over" before the throw occurs".
Katate dori
Katate dori or wrist grab. Plymouth, 2016.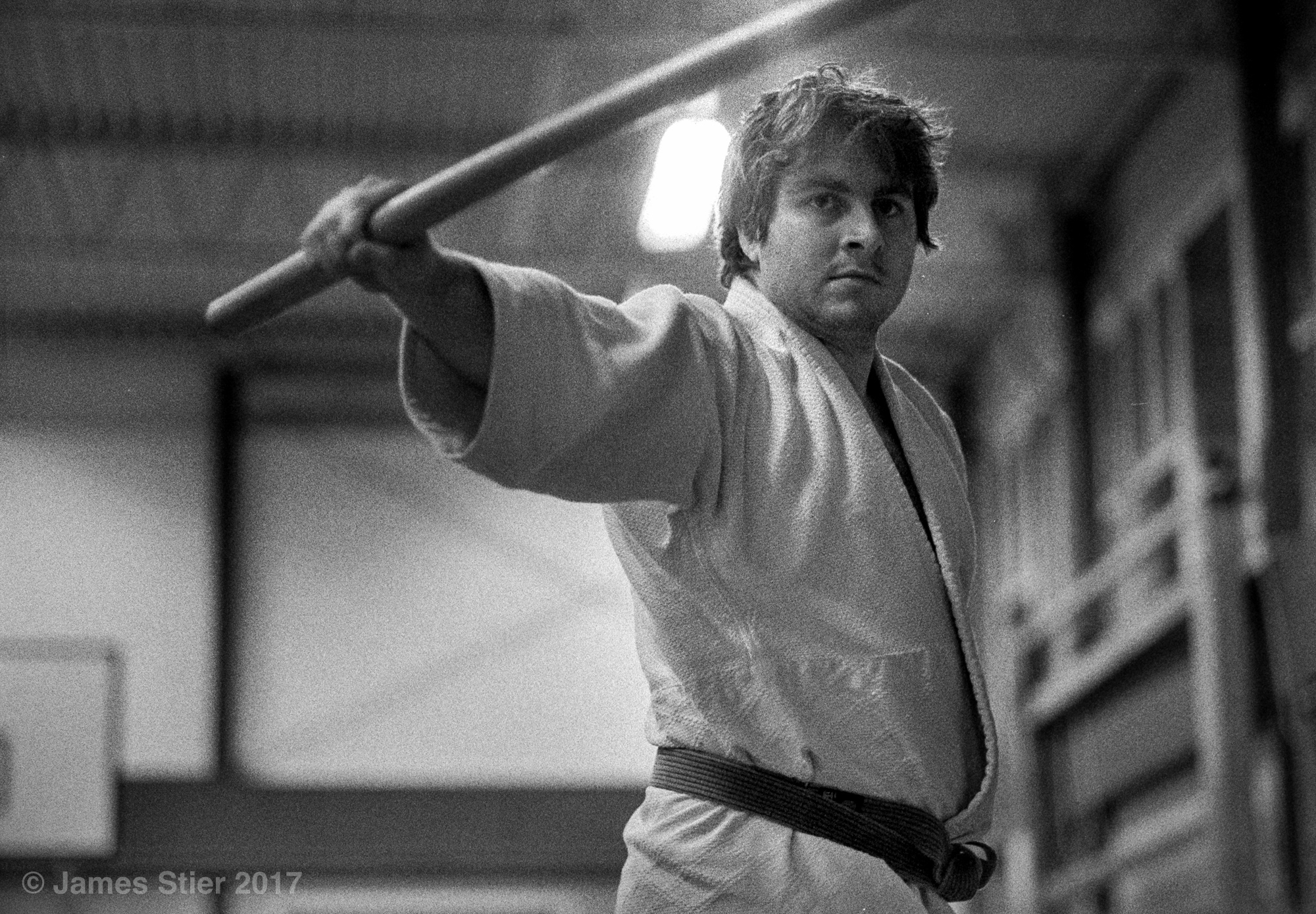 Bokken
A bokken, wooden training sword. Plymouth, 2016.
Sports Hall
The dojo becomes a sports hall again. Plymouth, 2016.